In the woods North of Woodmansie, in Byrne State Forest, five lonely sand roads come together in a wide clearing. I had been exploring the area around Union Clay Works earlier that day, and decided to head up to Buckingham to try to find cellar holes and the ruins of the railroad station. Driving North along Buckingham Road, the trail split, and I drove left, passing along a part of the woods that seemed particularly dreary.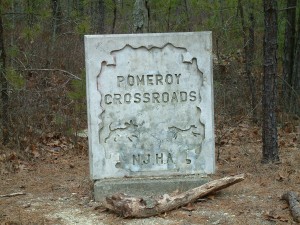 I made my way to the intersection, randomly driving along forgotten sand roads, while keeping an eye on my GPS to keep me from getting hopelessly lost. Out of the corner of my eye I saw a cement marker with the inscription "Pomeroy Crossroads" carved. I had never heard this place mentioned in any books or discussion with fellow Lost Town Explorers, so I took a picture and headed on my way, determined to find out what this place was.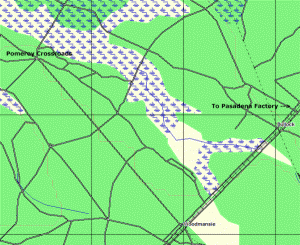 A month or so slipped by without any further clues as to what this place was. I had nearly forgotten about it until I bought a copy of Chaseworld – Foxhunting and Storytelling in New Jersey's Pine Barrens by Mary Hufford. Finally, I was able to get some information on who Pomeroy was and why there is a marker for him in the Pine Barrens!The sport of foxhunting, which normally draws images of hounds crashing across the fields of England, is alive and well in the Pine Barrens, where it has developed it's own unique identity. Instead of men on horseback, pickup trucks are used. Instead of shouts and yells between hunters, a CB radio keeps them all together. Donald Pomeroy was one of those hunters. In 1985, right before the opening of deer season, he lost control of his pickup truck and crashed into a tree. The New Jersey Sporting Dogs Association placed the marker there in memory of Donald Pomeroy, who had been a well respected member of the foxhunting community.
This article was first published on NJPineBarrens.com in 2003.