In 1924 records show that the first Cedar Bridge fire lookout (60 foot Aermoter) was erected on a small knoll near the Cedar Bridge Hotel on the old Cedar Bridge Barnegat Road. If you have read More Forgotten Towns by Henry Beck you may remember he visited the location in the mid 1930's, and mentions it in the "Refugees At Cedar Bridge" chapter. Very near the time Beck visited the site the Coast and Geodetic Survey designated the fire lookout there as a "geodetic survey location" and added it into their records.
 HISTORY     - Date     Condition        Report By
 HISTORY     - 1932     FIRST OBSERVED   CGS
In 1950 it was visited again and the tower was gone. The person visiting then took the time to check the State Forestry Department records and found it had been "torn down" in 1938.
 HISTORY     - 1950     MARK NOT FOUND   CGS

            STATION DESCRIPTION

 DESCRIBED BY COAST AND GEODETIC SURVEY 1950 (HFG)
 ACCORDING TO INFORMATION OBTAINED FROM THE STATE FORESTRY
 DEPARTMENT, THIS TOWER WAS TORN DOWN IN 1938.  THE FOUNDATION
 STILL EXISTS IN GOOD CONDITION.
A 1951 visit mentions it was found to have been moved across the county line to Burlington County in 1938.
            STATION RECOVERY (1951)

 RECOVERY NOTE BY NJ CONS AND ECON DEV 1951 (RGB)
 THE FIRE TOWER HAS BEEN MOVED TO A NEW LOCATION AND IS NOW OVER
 THE COUNTY LINE IN BURLINGTON COUNTY.
So we now know that in 1938 is was gone from it original location and in Burlington County, but where? We only need to go on a tour to find out.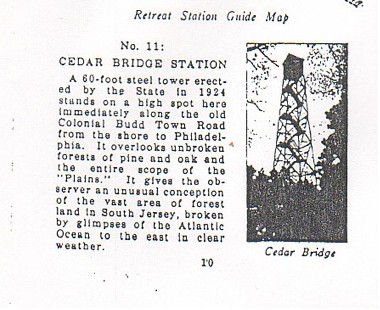 In 1939 a "Tour Guide" was published called "The American Guide Series" which describes traveling what is now Route 72 from Manahawkin to Route 70. It was designated tour #35. Points of interest along the route were pointed out for the traveler if they wanted to stop and visit locations mentioned along the route.
The tour started at the shore in Ship Bottom where unbelievably the population was noted as 277. From there the tour headed west pointing out points of interests. When the tour reached the turnoff on 72 that would take one to the above mentioned Cedar Bridge tower, they described it like this.
"Left on this road to Cedar Bridge Lookout, 0.8 (Mile). (open), a 60-foot tower with men on 24-hour duty. From the observation platform is a sweeping view of the forest".
The problem is as we now know, the tour was published in 1939 and the tower was torn down in 1938. If they had traveled up that road they would have found the tower gone. It had been moved across the county line to Burlington County in 1938 as mentioned above.
The tour continues west on 72, and at Coyle Field just over the county line in Burlington County they encountered the now moved Cedar Bridge tower at it second location, on the top of the knoll, on the north side near the road, across from what then was the National Guard Airport and now Coyle Field.
It is described like this:
"At 18.8 (miles)., on a cleared knoll close to the road, is another fire lookout. An excellent view of the long stretch of the Jersey pine belt is available from the platform, reached by steel stairs. Even from the road there is a broad vista of miles of wasteland, covered with scrub oaks and stunted pines barely waist-high. The stubby growth is like a coarse lawn as it sweeps away to become a distant blue-green sea. A few straggling trees rise above the mass, emphasizing the lonely scene". Remember, this was 1939.
Lookout historian Bob Spear in his unpublished manuscript describes what happened next.
"The tower stood there until about 1942 when it was taken down and what is believed re-erected at Old Bridge and became that tower. Still later, Old Bridge was removed and re-erected in Thompson Park as the Jamesburg tower still in use today. A new 110′ International Derrick tower, named Cedar Bridge was built on a sand road leading to the Forked River Mountains."
The reason it was moved is not known by me, but there may be a clue mentioned above as to why. Coyle Field which was the National Guard airport was designated as a reserve landing area for bombers and other aircraft out of Atlantic City during the war. Landing a military plane on an airfield with a fire lookout so close most certainly was a hazard.
So the Cedar Bridge tower "designation" with a new tower mentioned above moved on to a lonely spot on a sand road leading from 539 to the Forked River mountains. It's third location was in place. The 110′ International Derrick lookout had a unique flat roof with a railing attached so that it could be used to watch for enemy planes during the war. There was a trap door in the top for entering and leaving the roof. There was no other tower like it in NJ.
Unfortunately, this tower had no electricity and was so remote it was being vandalized during the 70's and very early 80's so it was decided that it needed to be moved. Around 1983 a Sikorsky helicopter took the tower on it's one mile journey to it's 4th and as of now last move to it's present location along 539. During this move the unusual gable roof was removed and one 10′ section of the tower was damaged. It now is 100′ tall.
References:
National Geodetic Survey Records
NJ Fire Service Records
America Guide Series: http://www.getnj.com/njags/tours/tour35.shtml
An unpublished manuscript by fire tower historian Bob Spear